Welcome to the Home of Epic Alpacas!
We specialize in breeding for grey by selectively bringing together the finest huacaya alpacas to produce Epic Alpacas!
Bringing in legendary grey genetic lines from the top males (including Bisturi, Avatar, Mile High Deacon Grey, Luciano, Rockford, Guns & Roses, 38 Special, Legend's Challenger, Casanova, Danko, Inca Legend, Silverado, Silvio, Vantaggio, Sentinel, American Iron, Dom Timbo, Rincon Cloud) and many of the top breeding programs of the modern era (including Snowmass, Patagonia, Derwydd, NeverSummer, Delphi, and more), we are developing what will be looked back on as the beginning of the future for the alpaca industry.
Featured Herdsire
Snowmass Enlightenment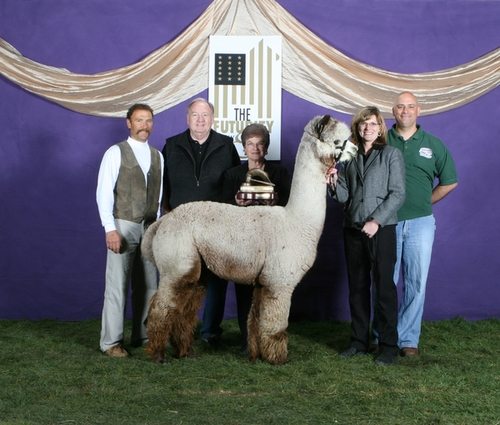 Enlightenment Comes to the West Coast!
The legendary grey herdsire, Snowmass Enlightenment, is bringing his power packed genetics to the West Coast! Snowmass Enlightenment, a multi-champion, is the product of generations of superior genetic development. Enlightenment has produced a multitude of champion offspring in all colors, year after year.
Click here to read more..
Featured Alpaca
BRF Casanova's Silver Jewel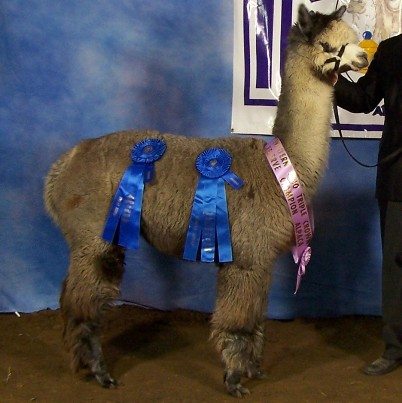 27 TIME RIBBON WINNER – BRED TO NATIONAL CHAMP ZEPPELIN – You won't find many females more decorated with awards than Jewel! She's a 27-time ribbon winner that produces female offspring, including greys. It doesn't get much better than this. She's had five cria, all girls, and the three that have been shown were all ribbon winners.
Click here to read more..
Upcoming Events
Alpaca Farm Days – Sep. 24, 2016
JOIN STEVE, CASEY AND ALL THE EPIC ALPACAS! Join us on September 24, 2016 for National Alpaca Farm Days! We'll be having our Open House and joining in with the Mariposa Farms & Ranch Ag Tour for a fun-filled day! We'll be open from 10:00 am – 5:00 pm on Saturday and welcome all visitors. […]
Click here to read more..